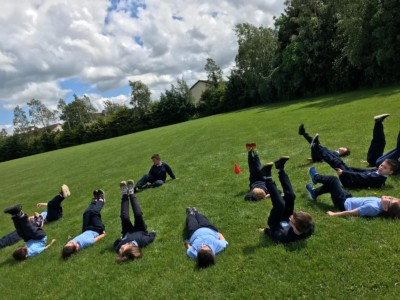 Despite the rain and the forced cancellation of two days of activities, we still managed to fit lots of fun and healthy activities into our ASW 2019.
A number of the classes went on a brisk 5k walk to get the hearts racing and made sure to stop into the Liffey Linear Park for a look at the yarn bombing.
We also had loads of fun games like rounders, dodgeball, peg tag and the ever popular crab soccer.
Crab Soccer
All of the classes also took part in the Gladiator Circuit which was run by the boys and girls from Mr. O'Mahony's 6th class. The Gladiator Circuit involved the pupils moving around a circuit and trying a mixture of different challenging exercises for 45 seconds.
Gladiator Circuit

Gladiator Circuit
Finally, to finish off the week in style, we had our annual Students vs Teachers soccer match. The students' team was made up of a boys and girls from our four 6th classes.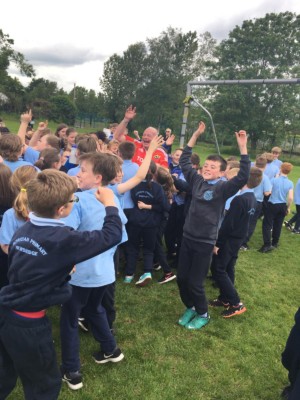 It was a fantastic game that finished 4-4 with both teams swapping the lead throughout the game. A particular mention had to go to the wonderful Sir Kirke in goals who made some excellent saves and even managed to save TWO penalties.